I was very sad today to discover that www.smallworlddrums.com is appearantly gone.
It was a site where one could purchase very, very groovy model drum sets. Miniture versions of famous drum sets through history. Such fabulous things as a model of Ringo's great Ludwig kit from the Beatles touring days. Other great drummers whose sets they have miniture replicas of include Buddy Rich, Stewart Copeland, and Eric Carr of KISS.
I was very excited about them when I first saw their site last year. These little, tiny drum sets looked amazing. I am glad I had downloaded photos of my favorite kits that they have made. I had thought about ordering a miniture version of my D'Amico set, I guess it's a little late for that now.
If you hear anything about finding them again, or any other miniture drum set manufacturers please send me a note and let me know.
Here is a photo of their Buddy Rich set: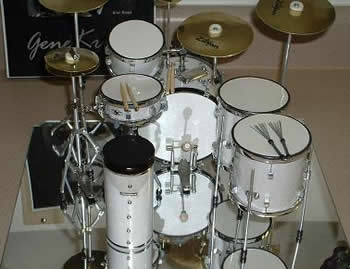 Rick Parries is genius at crafting miniture drum sets. As of April 15, 2011 I have not seen any web activity for his work in the past few years.
They are beautifully executed, works of art. He has built miniature kits of many favorite drummers set-ups – from Buddy Rich to Ringo Starr.
The drums are very detailed, with many fully adjustable moving parts. The perfect shelf decoration!
I am informed that collector, Ron Richlinski, has picked up a few of these kits on eBay at reasonable prices. I have yet to find one for myself.