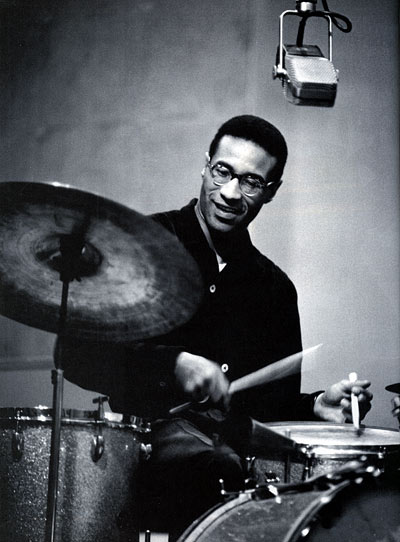 My father introduced me to the music of Max Roach through an album called Drums Unlimited. Since my earliest memories I have been a fan of jazz drums and this brilliant album helped clinch my choice to pursue a career as a drummer. Max brought a unique gift for melodic interpretation to the drums and introduced to world to the drums as a lead instrument.
At ten years old, Max Roach began playing drums in gospel bands, which had a significant influence on his musical development, though he also studied formally at the Manhattan School of Music.
Max Roach had been at the forefront of many of the great movements in jazz music. In the early 1940's he was the house drummer at Monroe's Uptown House in New York, playing in jam sessions and recording with folks like Charlie Parker and Dizzy Gillespie. These sessions ultimately led to the development of the "BeBop" style. During the same period Max was also performing and recording with Louis Jordan, Henry "Red" Allen, Coleman Hawkins and a diverse mixture of other musicians in a variety of jazz styles.
Max played drums with Miles Davis in the Birth of the Cool recording sessions which crafted a style known as "Cool Jazz". From 1954 to 1956, Max produced a number of seminal recordings with Clifford Brown, including Study In Brown and At Basin Street. These records are thought by many to epitomize the style of jazz known as "Hard Bop". During the late 1950s and early 1960s he went on to create a series of recordings which introduced the rise of "Free Jazz".
Max Roach brought a musicality to the drums that has influenced generations of musicians. His skillful interaction of pitch and timbral variety, rhythmic and melodic contrast and artful use of breath in phrasing as a member of the rhythm section, as well as imaginative improvisational skills as a soloist, establish Max Roach as one of the most outstanding and innovative drummers the world has ever known.
Here are a few of my favorite albums where you can hear some amazing drumming by Max Roach: