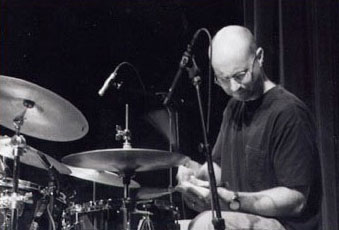 I recently caught the Terry Disley Trio in a small, intimate concert. What a great show! Disley, former pianst with Acoustic Alchemy, has a music résumé that includes sessions with some of my favorite artists, including Paul McCartney, George Harrison, Van Morrison, and Bryan Ferry.
The show, a holiday tribute to the music of Dave Brubeck & Vince Guaraldi, featured bassist John Shifflett, a jazz instructor at SJSU who has played with Mel Torme, Jerry Lewis, Dionne Warwick, and Bobby Hutcherson; and drummer Jason Lewis, who teaches jazz drumming in the muisc program at SJSU.
Jason Lewis has played with a variety of talented musicians including Boz Scaggs, Gary Burton, Paul McCandles, Regina Carter, Kurt Elling and Taylor Eigsti, and was an absolute joy to watch. He is the kind of musical drummer, with actual technique! that I love to see play and haven't had an opportunity to see live in a long time.
He inspired me to get back to some serious jazz practice. I highly recommend that you keep an eye out for one of his upcoming shows in your area and see him play live.