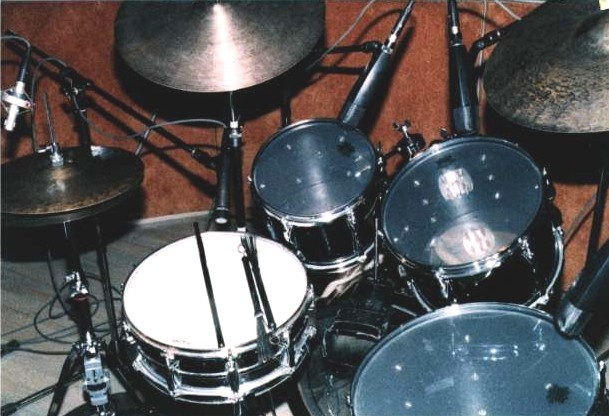 My first professional quality drumset was also a black, Yamaha Recording Custom drumset. They are really great drums, six-ply steam-bent birch wood shells with a nine coat, hand rubbed, piano lacquer finish and high tension lugs. They quickly became and remain today the industry standard of professional recording quality drums. Naturally you would think that these statistical details would be an important part of my decision to purchase such a fine musical instrument. But they were not, the fact is Steve Gadd played a black, Yamaha Recording Custom drumset, so I bought a black, Yamaha Recording Custom drumset!
In 1980-82 I went to a lot of shows by a Bay Area band called Merlin. Their drummer, Mark Mathias, was fabulous! His own drumming was an inspiration, and he introduced me to the musical drumming of Steve Gadd. It was the Chick Corea album The Leprechaun and I was absolutely blown away by the fast, intricate, precise and musical drumming. Within a few weeks I had purchased dozens of albums that Steve Gadd played on and like many others, I spent many, many hours learning to play like Gadd.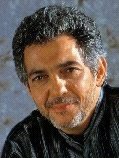 Steve Gadd was born in Rochester, New York, April 9, 1945. At 7 years old he started taking drum lessons, and by age 11 he performed with Dizzy Gillespie.

Steve studied music at Eastman College, Rochester, playing with the wind ensemble and concert bands. Nights saw him playing the local clubs with Chick Corea, Chuck Mangione, Joe Romano and Frank Pullara.

In 1972, he formed a trio with Tony Levin and Mike Holmes, and headed for New York. The trio wasn't successful, but Gadd began working extensively as a session player. Through the 1970's and 1980's, he toured internationally, recorded with practically EVERYONE!

By the end of the 70's Steve Gadd was the most in-demand and probably the most imitated drummer in the world. In Japan transcriptions of his solos were on sale, and all the leading Japanese drummers were sounding like him. Chick Corea commented, "Every drummer wants to play like Gadd because he plays perfect . . . He has brought orchestral and compositional thinking to the drum kit while at the same time having a great imagination and a great ability to swing."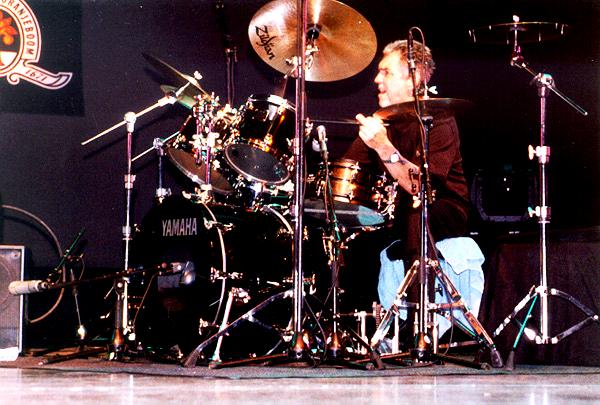 I remember being blown away by the Steve Gadd's drumming on Paul Simon's song "Fifty Ways to Leave Your Lover." It was one of the first drum beats that I literally spent hours listening and trying to learn. As a young, inexperienced drummer, the left hand hi-hat pattern had me feeling like I had no clue how to play the drums at all. Eventually, I struggled my way into playing it reasonably well and it definately inspired a wider range of creative options in my own playing.
Here is a transcription of the main drum beat from the verse of the song:

After watching a video of Steve playing the lick I learned that the transcription is not quite right. It does sound good playing the hi-hat notes of the main pattern as a double stroke on the hi-hat with the left hand. But the video clearly shows that Steve is playing this with left foot-left hand - not a double strock stick to the hi-hat.
Play the following pattern with (L) being left foot on the hi-hat:

Here is the video of Steve Gadd demonstrating:
A few of the many great musicians Steve Gadd has toured or recorded with include:
Eric Clapton
Paul Simon
Paul McCartney
Aretha Franklin
Stevie Wonder
Barbra Striesand
Chick Corea
Chuck Mangione
Carly Simon
Steely Dan
Joe Cocker
Here are some of the many great recordings on which Steve Gadd played drums:
Steve Gadd Recordings:

YEAR
ARTIST
ALBUM TITLE
2011
Kate Bush
Director's Cut
2011
Kate Bush
50 Words For Snow
2011
Cinque
Catch a Corner
2011
Various
Jazz For Japan
2011
The Gaddabouts
The Gaddabouts
2011
Nils Landgren
The Moon, the Stars and You
2010
Steve Gadd & Friends
Live at Voce DELUXE
2010
Ratko Zjaca
Continental Talk
2010
Tomo Fujita
Pure
2010
Lesley Meguid
The Truth About Love Songs
2010
Alain Clark
Colorblind (Special Edition)
2010
Mika Yoshida
Mikarimba
2010
Mika Yoshida
Marimba Madness (DVD)
2009
L'Image
2.0
2009
Ratko Zjaca
Continental Talk
2009
Joss Stone
Colour Me Free
2009
James Taylor
Other Covers
2009
Harper Simon
Harper Simon
2008
Randy Crawford & Joe Sample
No Regrets
2008
James Taylor
Covers
2008
Tracy Chapman
Our Bright Future
2008
Manhattan Jazz Quintet
V.S.O.P.
2008
Michel Petrucciani
Non Stop Travels (DVD)
2008
David Sanborn
Here & Gone
2008
Stuff
Live At Montreux 1976 (CD & DVD)
2008
Roman Klun
Kingsway
2008
Jonatha Brooke
The Works
2008
Tom Scott
Cannon Reloaded
2007
John Tropea
10-The Time is Right
2007
Russ Miller
Arrival
2007
Alain Clark
Live it Out
2007
John Tropea
Take Me Back to the Ol' School
2007
Various
The Last Mimzy (Soundtrack)
2007
Art Garfunkel
Some Enchanted Evening
2007
Michael Lee Hill
Music From Here To Andromeda
2007
Joe Brucato
Free
2007
Paul Simon
The Essential Paul Simon (CD & DVD)
2007
Paul Simon
Graceland (Special Edition: Bonus Tracks)
2007
Etta James
Gold
2007
Art Garfunkle
Some Enchanted Evening
2006
Garland Jeffreys
I'm Alive
2006
Earl Klugh
Music for Lovers
2006
O'Donel Levy
Simba
2006
Marc Black
Stroke Of Genius
2006
Janis Ian
Revenge
2006
Randy Crawford  & Joe Sample
Feeling Good
2006
Various
Joy! Celebrate Upstate Holiday Vol.1
2006
Various (*DVD )
From the Big Apple to the Big Easy
2006
James Taylor
A Christmas Album
2006
Al Di Meola
Consequence of Chaos
2006
Toshiki Kadomatsu
Prayer
2006
Various (*DVD )
A Musicares Person of the Year Tribute
2006
Gadd/Corea/McBride
Super Trio
2006
Paul Simon
Suprise
2006
Chick Corea
The Ultimate Adventure
2006
Livingston Taylor
There You Are Again
2005
Sunlight Square
Sunlight Square
2005
Gordon Johnson
Trios Version 3.0
2005
John Wackerman
Drum Duets Vol. 1
2005
Eric Clapton
Back Home
2005
Chick Corea
Rendezvous in New York
2005
David Sanborn
Best Of
2005
David Sanborn
Closer
2005
Rickie Lee Jones
Duchess of Coolsville/ Anthology
2005
Lee Ritenour
Friendship/ Captains Journey
2005
Chiara Civello
Last Quarter Moon
2005
Stuff
Live in N.Y. / More Stuff
2005
Aztec Camera
Love/ Stray
2005
Freetempo
Time & Love: A Tribute to C.T.I
2005
John Tropea
Standard Influence II-Rock Candy
2005
Michael McDonald
Ultimate Collection
2005
Zucchero
Zuccchero & Co.
2005
Russell Morris
Z
2004
Gato Barberieri
Millennium Collection
2004
Gap Mangione
Family Holidays
2004
The Ebonys
Close to You
2004
Stephen Bishop
Deuce of the Heart, His Best & More
2004
Wayne Shorter
Footprints: Life & Music of Wayne Shorter
2004
Paul Simon
Graceland Bonus Tracks
2004
Paul Simon
Hearts & Bones Bonus Tracks
2004
Paul Simon
One Trick Pony Bonus Tracks
2004
Paul Simon
Rhythm of the Saints Bonus Tracks
2004
Paul Simon
Still Crazy after All These Years
2004
Paul Simon
Studio Recordings 1972 - 2000
2004
Paul Simon
You're the One Bonus Tracks
2004
Chick Corea
Very Best Of
2004
George Benson
Very Best Of
2004
Lalo Schifrin
Towering Toccata
2004
The Bee Gees
Too Much Heaven: Songs of the Brothers Gibb
2004
Soul Generation
Stop, Look & Listen
2004
Little Jimmy Scott
Someone to Watch Over Me: The Definitive
2004
Michel Petrucciani
So What , The Best Of
2004
Eric Clapton
Sessions for Robert Johnson
2004
Carly Simon
Reflections: Greatest Hits
2004
Eric Gale
Part of You ( Japan)
2004
Montreal Jazz Fest
Vol. 1 Very Best Live, Petrucciani 1 Cut..
2004
Christian Mostert
Midnight Breeze
2004
Claus Ogerman
A Man & His Music
2004
Judy Collins
Sings Leonard Cohen: Democracy
2004
Janis Ian
Janis Ian, 1978 Bonus Track
2004
Grover Washington Jr.
Inside Moves/ Paradise
2004
Will & Rainbow
Harmony
2003
The Nighthawks
Metro Bar
2003
Peter Gabriel
Hit
2003
Edie Brickell
Volcano
2003
Lonnie Smith
Afrodesia
2003
Peter, Paul & Mary
Carry It On
2003
Jim Hall
Concierto
2003
Grover Washington Jr.
Feels So Good/ A Secret Place
2003
Jeremy Steig
Firefly
2003
George Benson
Greatest Hits of All
2003
Joe Cocker
Greatest Love Songs
2003
Bob James
Hi-Fi
2003
Gap Mangione
Stolen Moments
2003
Claus Ogerman
Man Behind the Music
2003
John Tropea
Standard Influence
2003
Michael Franks
Anthology: The Art of Love
2003
Selena Jones
My Love
2003
Jaco Pastorius
Punk Jazz: Anthology
2003
Chick Corea
Rendezvous in New York
2003
The Dynamic Superiors
Skies the Limit
2003
David Sanborn
Time Again
2003
Elaine Elias
Timeless
2002
Peter Gabriel
Up
2002
Edie Brickell
Ultimate Collection
2002
Quincy Jones
Ultimate Collection
2002
Christopher Cross
Very Best Of
2002
Dave Grusin
Very Best Of
2002
Ashford & Simpson
Very Best Of
2002
James Taylor
October Road
2002
Eric Clapton
One More Car One More Rider
2002
Will & Rainbow
Over Crystal Green
2002
Bob James
Touchdown Bonus Track
2002
Bob James
Two Bonus Track
2002
Wild Thornberrys
Soundtrack
2002
Tribute to Jaco Pastorious
Who Loves You?
2002
Bob James
BJ4
2002
Bob James
Lucky Seven
2002
Bob James
Essential Collection, 24 Smooth Jazz Classics
2002
Herbie Mann
Best of the Atlantic Years
2002
Rusty Bryant
For the Good Times
2002
Leo Sayer
Endless Flight (Expanded)
2002
Manzanera Mackay
Complete Explorers
2002
Bob Mintzer
Bop Boy
2002
George Benson
Bad Benson
2002
Ron Carter
Anything Goes
2002
Carly Simon
Anthology
2002
Zawose & Brook
Assembly
2001
Ornella Vanoni
Ornella
2001
Eric Clapton
Reptile
2001
Cyrus Chestnut
Another Direction
2001
Teo Macero
Impressions of Miles Davis
2001
Dusty Springfield
Dusty Springfield
2001
Herbie Mann
Brazil : Once Again/ Sunbelt
2001
Herbie Mann
Gagaku and Beyond/ Astral Island
2001
Simon & Garfunkel
Concert in Central Park/ 20 Greatest Hits
2001
Zachary Richard
High Time: The Elektra Recordings
2001
Everything But The Girl
Home Movies. "The Best Of"
2001
Hank Crawford
I Hear a Symphony ( Japan)
2001
Grover Washington Jr.
Love Songs
2001
Charles Mingus
Me Myself & Eye/ Something Like a Bird
2001
Quincy Jones
Q: The Musical Biography of Quincy Jones
2001
Loleatta Holloway
Queen of the Night: The Ultimate Club Collection
2001
Bob James
Restoration: The Best of Bob James
2001
Herbie Mann
Turtle Bay / Discotheque
2001
Michael McDonald
The Very Best Of
2001
Michael McDonald
Voice of Michael McDonald
2001
Herbie Mann
Waterbed/ Surprises
2000
Joe Cocker
20th Century Masters: The Millennium Collection
2000
George Benson
Absolute Benson
2000
George Benson
Anthology
2000
Al DiMeola
Anthology
2000
Carly Simon
Bedroom Tapes
2000
Jason Miles/Various
Celebrate The Music of Weather Report
2000
Cyrus Chestnut
Charlie Brown Christmas
2000
Peter Gabriel
OVO
2000
Janis Ian
God and the F.B.I.
2000
Freddie Gardner
Japanese Sandman
2000
Natalie Cole
Greatest Hits Vol. 1
2000
Paul Simon
Greatest Hits: Shining Like a National Guitar
2000
Chick Corea
My Spanish Heart Bonus Track
2000
Luciano Pavarotti
Pavarotti & Friends For Cambodia & Tibet
2000
Jaco Pastorious
Rare Collections (1 Track)
2000
Eric Clapton & BB King
Riding With The King
2000
Susan Oskorn
Signature
2000
Steps Ahead
Smokin' In The Pit
2000
Al Jarreau
Tomorrow Today
2000
The Choice Four
The Very Best of the Choice Four

1990's

1999
Jim Croce
Words and Music
1999
Grover Washington Jr.
Ultimate Collection
1999
Michal Petrucciani
Trio in Tokyo
1999
Joe Lucien
Sweet Control: The Best Of
1999
Harry Chapin
Story of a Life: The Harry Chapin Box
1999
Natalie Cole
Snowfall on the Sahara
1999
John Tropea
Simple Way to Say I Love You
1999
Donny Gerrard
Romantic
1999
Paul Simon
Anthology
1999
Ellie Greenwich
I Can Hear Music: Ellie Greenwich Collection
1999
Quincy Jones
From Q With Love
1999
Eileen Ivers
Crossing The Bridge
1999
Eric Clapton
Clapton Chronicles: The Best of Eric Clapton
1999
Michael Franks
Barefoot on the Beach
1999
Joe Cocker
Anthology
1998
Gap Mangione
Planet Gap: Big Band
1998
Dave Grusin
Priceless Jazz
1998
Michal Petrucciani
Both Worlds
1998
Kimiko Itoh
Sophisticated Lady
1998
Joe Sample
The Best of Joe Sample
1998
Michael Franks
Best of Michael Franks: A Backwards Glance
1997
Stanley Clarke
Bass-ic Collection
1997
Meco
Best Of
1997
Spyro Gyra
The Best of Spyro Gyra: The First Ten Years
1997
Various
Bridge School Concerts: Volume 1
1997
Various
Burning For Buddy: Tribute To The Music of BR
1997
Tania Maria
Europe
1997
Judy Collins
Forever: An Anthology
1997
Ray Charles
Genius & Soul: The 50 th Anniversary Collection
1997
Bob James
Playin' Hooky
1997
Sergio Salvatore
Point of Presence
1997
Joe Sample
Sample This
1997
Art Garfunkel
Songs From a Parent to a Child
1997
Al DiMeola
This is Jazz Vol. 31
1997
David Garfield & Friends
Tribute to Jeff
1996
Rory Block
Turning Point
1996
Maynard Ferguson
This is Jazz Vol. 16
1996
Bridget St. John
Take the 5ith
1996
Didier Lockwood
Storyboard
1996
Grover Washington Jr.
Soulful Strut
1996
Leo Sayer
Show Must Go On: Anthology
1996
Stuff
Right Stuff
1996
Andy Pratt
Resolution: The Andy Pratt Collection
1996
Various Artists
The New Grove: Blue Note Remix Project Vol. 1
1996
Karen Carpenter
Karen Carpenter
1996
Loleatta Holloway
Greatest Hits
1996
Ed Calle
Double Talk
1996
Ennio Morricone
Cinema Paradiso: The Classic Film Music Of..
1996
Chick Corea
Return to the 7th Galaxy
1996
Tania Maria
Bluesilian
1996
Al Jarreau
Best Of
1995
Janis Ian
Revenge
1995
Richard Tee
Real Time
1995
Various
People Original Soundtrack
1995
David Sanborn
Pearls
1995
Phil Manzanera
Manzanera Collection
1995
Al Dimeola
Acoustic Anthology
1995
Al Dimeola
Electric Anthology
1995
East Bounce
East Bounce
1995
Barry Manilow
Another life
1994
Andy Snitzer
Ties That Bind
1994
Al Jarreau
Tenderness
1994
Bob Berg
Riddles
1994
Manhattan Jazz Quintet
Concierto de Aranjuez
1994
Edie Brickell
Picture Perfect Morning
1994
Dave Grusin
Orchestral Album
1994
Al DiMeola
Orange & Blue
1994
Stephen Bishop
On & On: The Hits of Stephen Bishop
1994
Bill Withers
Lean on Me: THe Best of Bill Withers
1994
Herbie Mann
Herbie Mann Anthology Evolution of Man
1994
Al DiMeola
Essence of Al DiMeola
1994
Sadao Watanabe
Earth Step
1994
Joe Sample
Did You Feel That?
1994
St. Johns College Choir
Christmas Carols from St. Johns
1994
Various
Burning For Buddy. The Music of Buddy Rich
1994
David Wilcox
Big Horizon
1994
Patti Austin
Best Of Patti Austin
1994
Jim Croce
24 Karat In A Bottle
1993
Abraham Laboriel
Dear Friends
1993
Ray Charles
My World
1993
Will Lee
Oh!
1993
John Sebastian
Tar Beach
1993
Chick Corea
Compact Jazz The Seventies
1993
Steely Dan
Citizen Steely Dan
1993
Tania Maria
Best Of Tania Maria
1993
Paul Simon
1964-1993
1993
Michel Jonaz
Au Zenith
1993
Sleepy Matsumoto
Papillion
1993
Stuff
Made In America A Rememberance Of Richard Tee
1992
Garland Jeffreys
Matador & More
1992
Original Soundtrack
Lethal Weapon 3
1992
Barry Manilow
Complete Collections And Then Some
1992
Earl Klugh
Best Of Volume 2
1992
Manhattan Transfer
Anthology Down In Birdland
1991
Paul Simon
Concert In Central Park August 15, 1991
1991
James Taylor
New Moon Shine
1991
Marc Cohn
Marc Cohn
1991
Andy Gibb
Greatest Hits Collection
1991
The Gadd Gang
The Gadd Gang
1991
Georgie Fame
Cool Cat Blues
1991
Earl Klugh
Best Of Volume One
1990
Christopher Spendel
Spendel
1990
David Foster
River Of Love
1990
Paul Simon
Rhythm Of The Saints
1990
Manhattan Jazz Quintet
Manhattan Blues
1990
Carly Simon
My Romance
1990
Bob Malach
Mood Swing
1990
Dave Weckl
Master Plan
1990
Carly Simon
Have You Seen Me Lately
1990
Bonnie Raitt
Bonnie Raitt Collection
1990
Art Farmer
Best Of Art Farmer
1990
Tania Maria
Bela Vista

1980's

1989
Eddie Gomez
Street Smart
1989
Kimiko Itoh
Follow Me
1989
Nancy Wilson
Nancy Now!
1989
The Bee Gees
Rare Collection
1989
Jorge Dalto With Super Friends
Rendevouz
1989
Sadao Watanabe
Selected
1989
Ringo Starr
Starr Struck Best Of Ringo Starr Volume 2
1989
Laurie Anderson
Strange Angels
1988
The Gadd Gang
Live at the Bottom Line
1988
Steps
Step By Step
1988
The Gadd Gang
Here & Now
1988
Claus Ogerman
Claus Ogerman Featuring Michael Brecker
1988
Dave Grusin
Collection
1988
Masahiko Satoh
Double Exposure
1988
Harry Chapin
Gold Metal Collection
1988
Luiz Bonfa
Manhattan Strut
1988
Paul Simon
Negotiations And Love Songs 1971-1986
1988
Roberta Flack
Oasis
1988
Randy Bernsen
Paradise Citizens
1988
Lyle Mays
Street Dreams
1988
Superfriends
Taste Of Superfriends
1987
David Sanborn
Change Of Heart
1987
Jennifer Holliday
Get Close To My Love
1987
Jill Jones
Jill Jones
1987
Diana Ross
Red Hot Rhythm & Blues
1987
Manhattan Jazz Quintet
Live in Tokyo
1987
Paul Winter
Whales Alive
1986
Smith Dobson
Smithzonian
1986
Manhattan Jazz Quintet
Sidewinder
1986
Manhattan Jazz Quintet
My Funny Valentine
1986
Manhattan Jazz Quintet
Live at Pit Inn
1986
Eddie Gomez
Mezgo
1986
Eliane Elias
Illusions
1986
Grover Washington Jr.
House Full Of Love (Music From The Cosby Show)
1986
Gloria Loring
Gloria Loring
1986
Steve Gadd
Gadd A Bout (Limited Domestic Release)
1986
Bob James & David Sanborn
Double Vision
1986
Diane Schuur
Collection
1986
George Benson
Best Of The CTI Years
1986
Art Garfunkel & Amy Grant
Animals Christmas
1986
Patrick Williams New York Band
10th Avenue
1985
Masahiko Satoh
Amorphism
1985
James Brown
CD Of JB
1985
Original Soundtrack
A Chorus Line
1985
Paul Winter Consort
Concert For The Earth
1985
Steely Dan
Decade Of Steely Dan
1985
Eddie Gomez
Discovery
1985
Manhattan Jazz Quintet
Autumn Leaves
1985
Diana Ross
Eaten Alive
1985
Explorers
Explorers
1985
Joe Beck
Joe Beck And Friends
1985
John Tropea
NYC Cats Direct
1985
Ronnie Cuber
Pin Point
1985
Jennifer Holliday
Say You Love Me
1985
Teruo Nakamura
Super Friends
1985
Michael Franks
Skin Dive
1984
Rickie Lee Jones
Magazine
1984
Manhattan Jazz Quintet
Manhattan Jazz Quintet
1984
Frank Sinatra
L.A .Is My Lady
1984
Grover Washington Jr.
Inside Moves
1984
Eddie Gomez
Gomez
1984
Steve Gadd
Gadd A Bout (Japanese Release)
1984
Various
Every Man Has A Woman
1984
Chuck Mangione
Disguise
1984
Dave Grusin
NY-LA Dream Band
1983
Sadao Watanabe
Redezvous
1983
Michael Franks
Passionfruit
1983
George Benson
Pacific Fire
1983
Al Jarreau
Jarreau
1983
Paul Simon
Hearts And Bones
1983
Bob James
Genie
1983
Tony Banks
Fugitive
1983
Bob James
Foxie
1983
Sadao Watanabe
Fill Up The Night
1983
Spyro Gyra
City Kids
1983
Christopher Cross
Another Page
1983
Paul McCartney
Pipes of Peace
1982
Bill LaBounty
Bill LaBounty
1982
Simon & Garfunkel
Concert In Central Park
1982
Janis Siegel
Experiment In White
1982
Steely Dan
Gold
1982
David Matthews
Grand Cross
1982
Dionne Warwick
Heartbreaker
1982
Joe Sample
Hunter
1982
Roberta Flack
In The One
1982
Michael McDonald
If That's What It Takes
1982
Spyro Gyra
Incognito
1982
Lalo Schifrin
Lalo Schifrin
1982
Dave Grusin
Out Of The Shadows
1982
Paul McCartney
Tug of War
1982
David Sanborn
Backstreet
1982
Al DiMeola
Tour de Force Live
1981
Chick Corea
Three Quartets
1981
Larry Carlton
Sleepwalk
1981
Rickie Lee Jones
Pirates
1981
Hubert Laws
Pavane
1981
Manhattan Transfer
Mecca For Moderns
1981
The Bee Gees
Living Eyes
1981
George Benson
Collection
1981
George Benson
GB
1981
Al DiMeola
Electric Rendezvous
1981
Al Jarreau
Breakin' Away
1981
Tom Scott
Apple Juice
1980
Tom Scott
Best Of
1980
Herb Alpert
Beyond
1980
Grover Washington Jr.
Come Morning
1980
Grover Washington Jr.
Winelight
1980
Dave Liebman
What It Is
1980
Carly Simon
Come Upstairs
1980
Richie Havens
Connections
1980
Teramasu Hino
Daydream
1980
Brecker Brothers
Detente'
1980
Jeff Tyzik
Farthest Corner Of My Mind
1980
Kate & Anna McGarrigle
French Record
1980
Steely Dan
Gaucho
1980
Barbara Streisand
Guilty
1980
Sadao Watanabe
How's Everything ?
1980
Sesame Street
In Harmony
1980
Stuff
Live In New York
1980
Loleatta Holloway
Love Sensation
1980
Warren Bernhardt
Manhattan Update
1980
Richard Tee
Natural Ingrediants
1980
Jun Fukamachi
On The Move
1980
Paul Simon
One Trick Pony
1980
Jeremy Steig
Rain Forest
1980
Stephen Bishop
Red Cab To Manhattan
1980
Steps Ahead
Smokin' In The Pit
1980
Chuck Mangione
Tarantella
1980
Al Jarreau
This Time
1980
David Sanborn
Voyeur

1970's

1979
Dr.John
Tango Palace
1979
Neil Larsen
High Gear
1979
Bob James
Touchdown
1979
Bob James
Lucky Seven
1979
Bob James
All Around Town
1979
Steve Khan
Arrows
1979
Ralph McDonald
Counterpoint
1979
Ray Barretto
Cuna
1979
Art Garfunkel
Fate For Breakfast
1979
Lee Ritenour
Feel The Night
1979
Steely Dan
Greatest Hits
1979
David Sanborn
Hideaway
1979
Dave Valentin
Legends
1979
Michel Colombier
Michel Colombier
1979
Sadao Watanabe
Morning Island
1979
Janis Ian
Night Rains
1979
Mark Colby
One Good Turn
1979
Mongo Santamaria
Red Hot
1979
Rickie Lee Jones
Rickie Lee Jones
1979
Al DiMeola
Splendido Hotel
1979
Carly Simon
Spy
1979
Richard Tee
Strokin'
1979
Herbie Mann
Sunbelt
1978
Original Soundtrack
The Wiz
1978
Stephane Grappelli
Uptown Dance
1978
Stuff
Stuff It
1978
George Benson
Space Album
1978
Quincy Jones
Sounds...And Stuff Like That
1978
Mark Colby
Serpentine Fire
1978
Gato Barbieri
Ruby Ruby
1978
Allessi Brothers
All For A Reason
1978
Angela Bofill
Angie
1978
Art Farmer & Jim Hall
Big Blues
1978
Steve Khan
Blue Man
1978
Carly Simon
Boys In The Trees
1978
Michael Franks
Burchfield Nines
1978
Hank Crawford
Cajun Sunrise
1978
Lee Ritenour
Captains Journey
1978
Lee Ritenour
Friendship (Japanese Direct To Disc JVC)
1978
Jon Faddis
Good & Plenty
1978
John Hall
John Hall
1978
Doctor John
City Lights
1978
Chick Corea
Friends
1978
Dane Donahue
Dane Donahue
1978
Roberta Flack
Roberta Flack
1978
Kate & Anna McGarrigle
Pronto Mondo
1978
Ralph McDonald
The Path
1978
Mark Almond
Other Peoples Rooms
1978
Garland Jeffreys
One Eyed Jack
1978
John Tropea
To Touch You Again
1978
Larry Coryell
Difference
1978
The Stylistics
Sun And Soul
1978
Gladys Knight
The One And Only
1978
Bobby Humphrey
Free Style
1978
Van McCoy
My Favorite Fantasy
1978
Eric Gale
Multiplication
1978
Weather Report
Mr.Gone
1978
Eddie Daniels
Morning Thunder
1978
Stanley Clarke
Modern Man
1978
Charles Mingus
Me Myself & Eye
1978
New York Community Choir
Make Every Day Count
1978
Chick Corea
Mad Hatter
1978
Joe Cocker
Luxury You Can Afford
1978
Yutaka Yokokura
Love Light
1978
Joe Farrell
La Cathedral Y El Toro
1978
Kate Taylor
Kate Taylor
1978
Jun Fukamachi
& The New York AllStars
1978
Mary Travers
It's In Everyone Of Us
1978
Tom Scott
Intimate Strangers
1978
George Benson
In Your Eyes
1978
David Sanborn
Heart To Heart
1977
Art Garfunkel
Watermark
1977
Steve Khan
Tightrope
1977
Lucy Simon
Stolen Time
1977
Meco
Star Wars & Other Galactic Funk
1977
Love Childs Afro Cuban Blues Band
Spandisco
1977
Ashford & Simpson
So So Satisfied
1977
Melissa Manchester
Singin...
1977
John Tropea
Short Trip To Space
1977
Sergio Mendes & Brazil 77
Sergio Mendes & Brazil 77
1977
Jun Fukumachi
Sea Of Dirac
1977
Ringo Starr
Ringo The 4th
1977
Elliott Randall
Randalls New York
1977
John Blaine
We Belong Together
1977
Phil Upchurch
Phil Upchurch
1977
John Tropea
Short Trip To Space
1977
Philippe Wynne
Startin' All Over
1977
Jose Mangual
Buyu
1977
Noel Pointer
Phantasia
1977
Dave Grusin
One Of A Kind
1977
Phoebe Snow
Never Letting Go
1977
Stuff
More Stuff
1977
Urzula Dudziak
Midnight Rain
1977
Grady Tate
Master Grady Tate
1977
Rev. Maceo Woods
Maceo Woods & The CTB Choir
1977
Mike Maineri
Loveplay
1977
Earl Klugh
Living Inside Your Love
1977
George Benson
Livin' Inside Your Love
1977
David Ruffin
In My Stride
1977
Stanley Clarke
I Wanna Play For You
1977
Bob James
Heads
1977
Bob James
Four
1977
Steely Dan
Aja
1977
Yuseef LaTeef
Autophysiopsychic
1977
Roberta Flack
Blue Lights In The Basement
1977
Al DiMeola
Casino
1977
Ben Sidran
Cat In The Hat
1977
Kenny Loggins
Celebrate Me Home
1977
Paul Winter Consort
Common Ground
1977
Rainbow Featuring Will Boulware
Crystal Green
1977
Harry Chapin
Dance Band On The Titantic
1977
Kate & Anna McGarrigle
Dancer With Bruised Knees
1977
Brecker Brothers
Don't Stop The Music
1977
David Matthews
Dune
1977
Jun Fukamachi
Evening Star
1977
Earl Klugh
Fingerpainting
1977
Jeremy Steig
Firefly
1977
Barbara Carroll
From The Beginning
1977
Garland Jeffreys
Ghost Writer
1977
Paul Simon
Greatest Hits, Etc..
1976
Joe Cocker
Stingray
1976
Deodato
Very Together
1976
Stuff
Stuff
1976
David Friesen
Star Dance
1976
Bette Midler
Songs For The New Depression
1976
Steve Marcus & Counts Rock Band
Sometime Other Than Now
1976
Weldon Irvine
Sinbad
1976
Phoebe Snow
Second Childhood
1976
Stanley Clarke
School Days
1976
Hubert Laws
Romeo & Juliet
1976
Andy Pratt
Resolution
1976
Henry Gross
Release
1976
George Benson
Best Of (WB)
1976
Tom Scott
Blow It Out
1976
Judy Collins
Bread & Roses
1976
Lou Courtney
Buffalo Smoke
1976
Esther Phillips
Capricorn Princess
1976
Deodato
Caravan
1976
Carla Bley
Dinner Music
1976
Wlodek Gulgowski
Soundcheck
1976
Funk Factory
Funk Factory
1976
Nancy Wilson
This Mothers Daughter
1976
David Ruffin
Everything Is Coming Up Love
1976
Ralph Graham
Wisdom
1976
Al DiMeola
Elegant Gypsy
1976
Patti Austin
End Of A Rainbow
1976
Leo Sayer
Endless Flight
1976
Joe Thomas
Feelin's From Within
1976
Herbie Mann
Gagaku And Beyond
1976
Eric Gale
Ginseng Woman
1976
Hank Crawford
Hank Crawford's Back
1976
Joe & Bing
Joe & Bing
1976
Joey George & Lewis Mcgehee
Joey George & Lewis Mcgehee
1976
John Tropea
John Tropea
1976
Al DiMeola
Land Of The Midnight Sun
1976
Earl Klugh
Love Songs
1976
Chick Corea
My Spanish Heart
1976
Manhattan Transfer
Pastiche
1976
Maynard Ferguson
Primal Scream
1976
Chuck Mangione
Main Squeeze
1975
Ron Carter
Anything Goes
1975
Brecker Brothers
Back To Back
1975
Deodato
Caravan/Watusi Strut
1975
Rashaan Roland Kirk
Case Of The Three Sided Dream In Audio Color
1975
Jim Hall
Concierto
1975
Grover Washington Jr.
Feels So Good
1975
George Benson
Good King Bad
1975
Hank Crawford
I Hear A Symphony
1975
George Benson
In Concert Carnegie Hall
1975
Stanley Clarke
Journey To Love
1975
Judy Collins
Judith
1975
Michael Urbaniak
Fusion 3
1975
David Ruffin
Who I Am
1975
Frankie Valli
Lady Put The Light Out
1975
Steve Satten
Watcha Gonna Do For Me
1975
Barry Miles
Magic Theater
1975
Kate & Anna McGarrigle
Kate & Anna McGarrigle
1975
Merry Clayton
Keep Your Eye On The Sparrow
1975
Chick Corea
The Leprechaun
1975
Margie Joseph
Margie
1975
Tom Scott
New York Connection
1975
Leon Redbone
On The Track
1975
Melba Moore
Peach Melba
1975
Don Sebesky
Rape Of El Morro
1975
Paul Simon
Still Crazy After All These Years
1975
David Sanborn
Taking Off
1975
Bob James
Two
1975
Herbie Mann
Waterbed
1975
Nikki Giovanni
Way I Feel
1974
George Benson
Bad Benson
1974
Mary Travers
Circles
1974
Peter Allen
Continental American
1974
Herbie Mann
Discotheque
1974
Herbie Mann
First Light: Family Of Mann
1974
Henry Gross
Henry Gross
1974
Johnny "Hammond" Smith
Higher Ground
1974
Hubert Laws
In The Beginning
1974
The Joneses
Keeping Up With The Jones
1974
Bob James
One
1974
Phoebe Snow
Phoebe Snow
1974
Richard Harris
The Prophet
1974
Maggie Bell
Queen Of The Night
1974
Chet Baker
She Was To Good To Me
1974
Bonnie Raitt
Streetlights
1974
Eddie Palmieri & Lalo Rodriguez
Unfinished Masterpiece
1974
Phil Upchurch/Tennyson Stephens
Phil Upchurch/Tennyson Stephens
1974
Jackie Cain & Roy Kral
Wilder Alias
1974
Aretha Franklin
With Everything I Feel In Me
1973
Bette Midler
Bette Midler
1973
Steve Feldman
Steve Feldman
1973
O'Donel Levey
Simba
1973
Joe Farrell
Penny Arcade
1973
Chuck Mangione
Land Of Make Believe (Tympani)
1973
Stardrive
Intergalactic Trot
1973
Jim Croce
I Got A Name
1973
Rusty Bryant
For The Good Times
1973
Arthur Hurley & Gootlieb
Arthur Hurley & Gootlieb
1972
Bill Watrous
Bone Straight Ahead
1972
Mike Maineri
White Elephant
1972
Milt Jackson
Goodbye
1972
Chuck Mangione
Alive
1972
Chuck Mangione
Together
1972
Fred Lewis Orchestra
F.L.O.
1972
Gap Mangione
Sing Along Junk
1972
Janis Ian
Janis Ian
1972
Luiz Bonfa
Bonfa
1970
Chuck Mangione
Friends And Love

1960's

1968
Gap Mangione
Diana In The Autumn Wind